Last week was very busy in terms of the public release of COVID modelling I have been working on for various governments in Canada. First off was a press conference from the Government of Prince Edward Island on Wednesday, January 26:
About 35 minutes in, you can find Dr Heather Morrison (Chief Health Officer) discussing recent forecasts for new cases and hospitalizations under current conditions, and various hypothetical scenarios considering the effects of the January 19 circuit breaker in PEI.
I have also been doing some modelling for the Northwest Territories (NWT). On the government's website, you can find a webpage called The Use of Mathematical Modelling in the Northwest Territories (NWT). This page contains a concise summary of NWT modelling results as of Wednesday, January 26. We plan to update this webpage regularly as more data becomes available.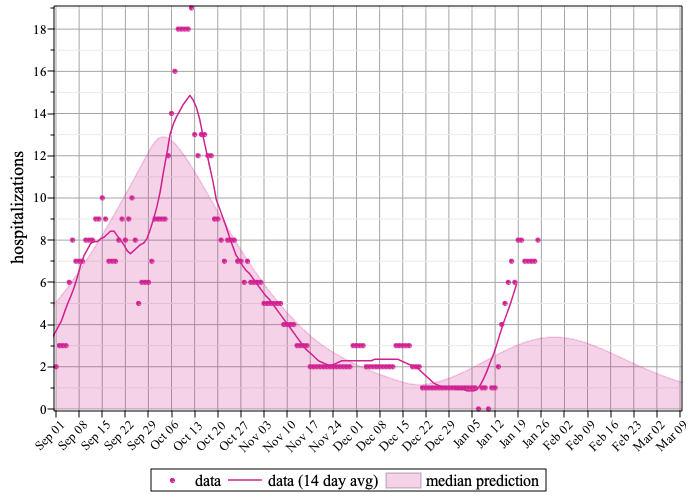 Finally, Dr Jennifer Russell (Chief Medical Officer of Health of New Brunswick) presented a modelling slide at a Thursday, January 27 press conference (around 5 minutes in):
This chart compared model projections for hospitalizations during New Brunswick's level 3 restrictions and actual data.
I am very pleased to acknowledge that all the above modelling was done in cooperation with government scientists from multiple jurisdictions. The underlying modelling framework is the result of a yearslong effort in collaboration with the New Brunswick Department of Health. The work has also been supported by the National Sciences and Engineering Research Council of Canada (NSERC), the Canadian Institutes of Health Research (CIHR), the New Brunswick Health Research Foundation (NBHRF), Mathematics for Public Health (MfPH), the Atlantic Association for Research in the Mathematical Sciences (AARMS), and the Government of New Brunswick.